I started my Day 2 in Esfahan (see here for Day 1) wandering around the parklands that border the River Zayendeh. Then, after my aborted attempt at visiting the Shah Mosque, I decided that I'd make my way out to the largest mosque in Iran, the Jameh Mosque of Esfahan (the main mosque in each town is called the Jameh Mosque).
It is said that this Mosque is a study in Iranian architecture styles and became the template on which almost all other Iranian mosques were built. For this reason, I had hoped they would have an audio tour, but it turns out it was one of the few places that didn't ☹, though they did have some signs in English as well as in Farsi.
Wandering around, my initial impression was that it was very "messy" (there was stuff dumped everywhere it seemed). But if you looked closely, there were beautiful details.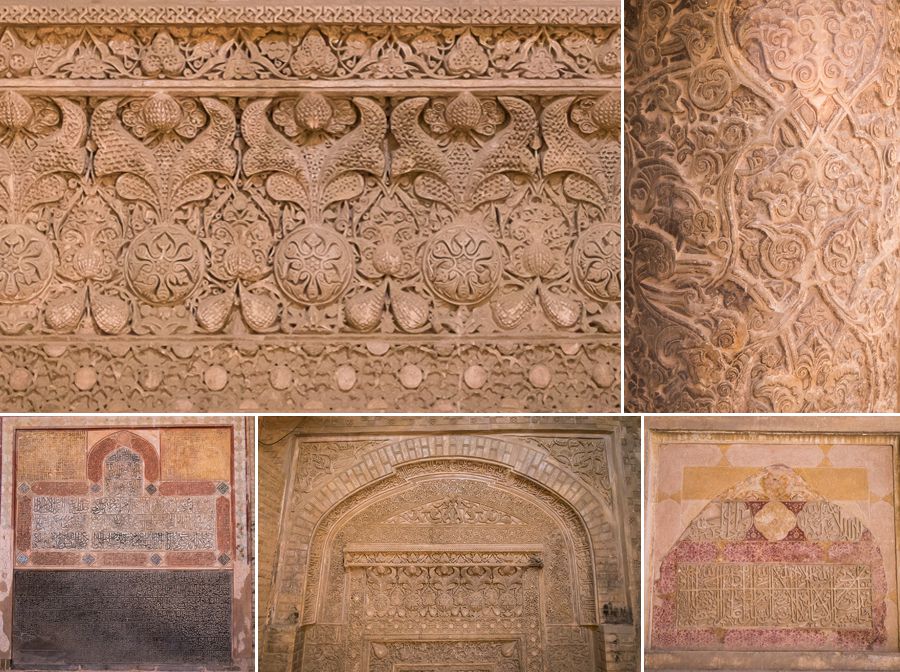 The other problem I initially had was I wasn't sure where I was allowed to go into and where I wasn't. There were clearly "women's sections" of the mosque, but did that mean that I, as a tourist, wasn't allowed to go into where there seemed to be only men? I ummed and ahhed about this for quite a while, until I saw some other women tourists enter the main prayer hall in the South Dome that I'd been dying to see inside. OK – let's head in!
This was an enormous space with a very high domed ceiling and extensions out to either side. To the right, and behind a curtain, was the women's section.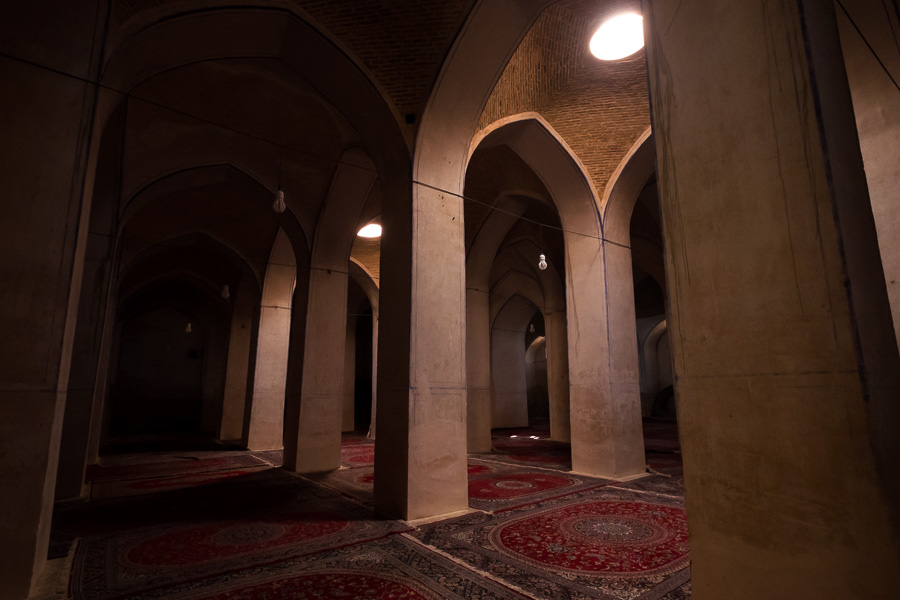 To the left was a much larger section with quite a few men sitting talking, praying or sleeping.
It was surprisingly uncomfortable walking through both sections – partially because I still wasn't 100% sure I was allowed in there, partially because it is a place of prayer and I was a gawking tourist, and partially because the whole segregation thing is very strange to me. But nobody seemed to mind that I was there, they just went on with whatever they were doing.
I ended up back under the main dome and laid down on the carpets to relax (like everyone else) and contemplate.
Re-emerging outside after about an hour, a couple of men were converting the enormous blank centre of the mosque complex into an outdoor prayer room!
One of the doors that was locked when I arrived was now open, so I headed in for a look. In the front room was an altar (mehrab) that was very intricately carved, and said to be one of the most exquisite monuments of the Ilkhanid period (13th century; Iran has a long and complicated history).
There were also 2 examples of Menbars – step-like constructions on which the leader of the congregation would stand.
My visit to this part of the mosque coincided with the appearance of a guide and 2 other tourists, and he invited me to accompany them through a second door into a low, tent-like prayer room that featured "skylights" made of thin marble.
I ended up spending a couple of hours out at the mosque (one of which was just lying down under the dome), and then headed back towards the hostel via the enormous covered Gran Bazaar. This winds its way for several kilometres and ends up at Naqsh-e Jahan Square eventually. I didn't go quite that far, but it was interesting to wander the labyrinth of shops selling everything from clothes to jewelry to toys to spare parts to anything to, well, anything you can possible imagine really.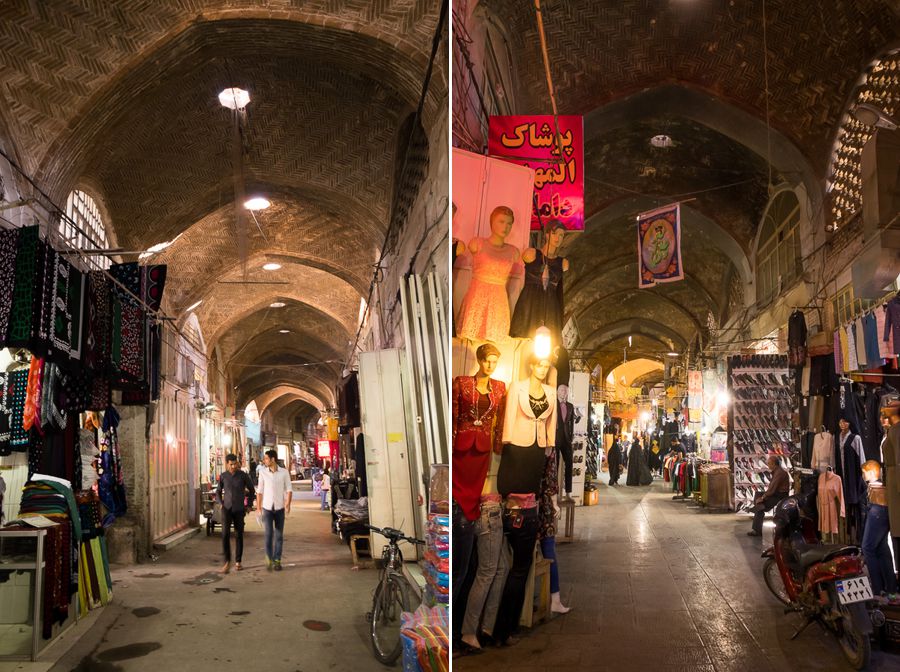 I was so thankful to be able to escape the sun and walk under cover for the majority of the way, even if I had to dodge bicycles and motorcycles, and even a car at one point. I'd already discovered that, in Iran, pedestrian ways were also open to 2-wheeled vehicles!
Finished off my time in Esfahan doing what Iranians do – having a picnic.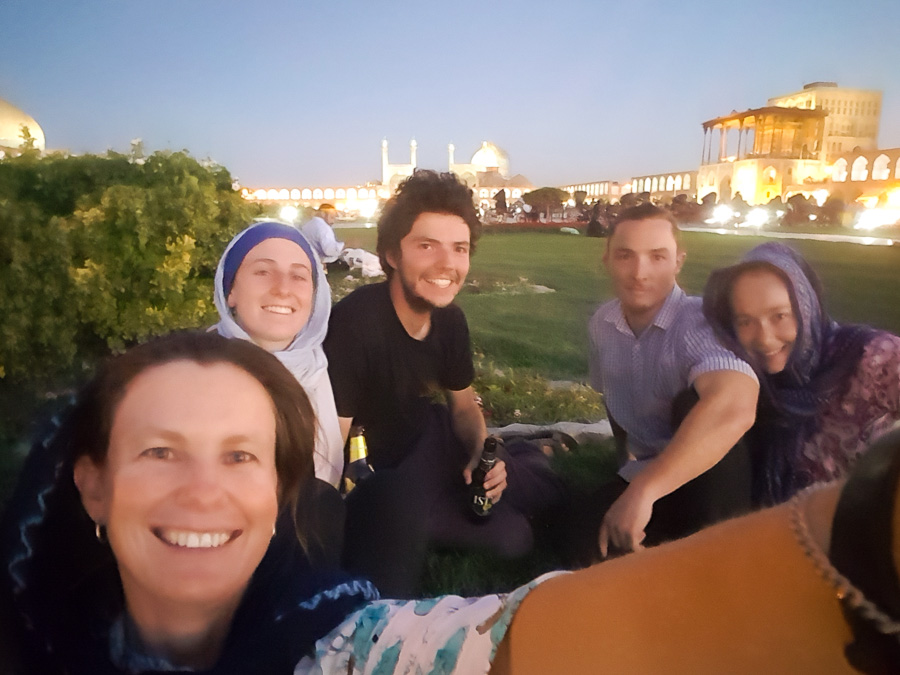 The "young'uns" and I went and bought some cooked chook (seriously the tastiest I've ever had!) bread and salad, and had a great time joining with the locals in this most Iranian of endeavours. The reason the above photo is so crap – it was Ramadan and we weren't allowed to eat in public until well after the sun had set!
All in all, I really enjoyed Esfahan – despite the heat!