One of the best recommendations I can make is that if you are visiting a country for a while, join the expat Facebook group(s) associated with that country.
I have been a member of Discover Chile for several years now, and when I knew I was coming to Ecuador for an extended stay I joined the Ecuador Expats and Expats in Quito groups. All three groups are very, very active, full of interesting information, and a regular source of inspiration for me about upcoming events etc.
Usually things tend to be announced last minute, and the one that grabbed my attention the other day was this announcement about the Ecuador National Symphony Orchestra playing The Hebrides Overture by Mendelssohn in the Iglesia de la Compañia in a free concert. It seems that any excuse for a free concert is a good one – and this one was put on to celebrate the 30th anniversary of the Montreal Protocol – the protocol designed to protect the Earth's ozone layer from further depletion (remember when that was our major global concern?)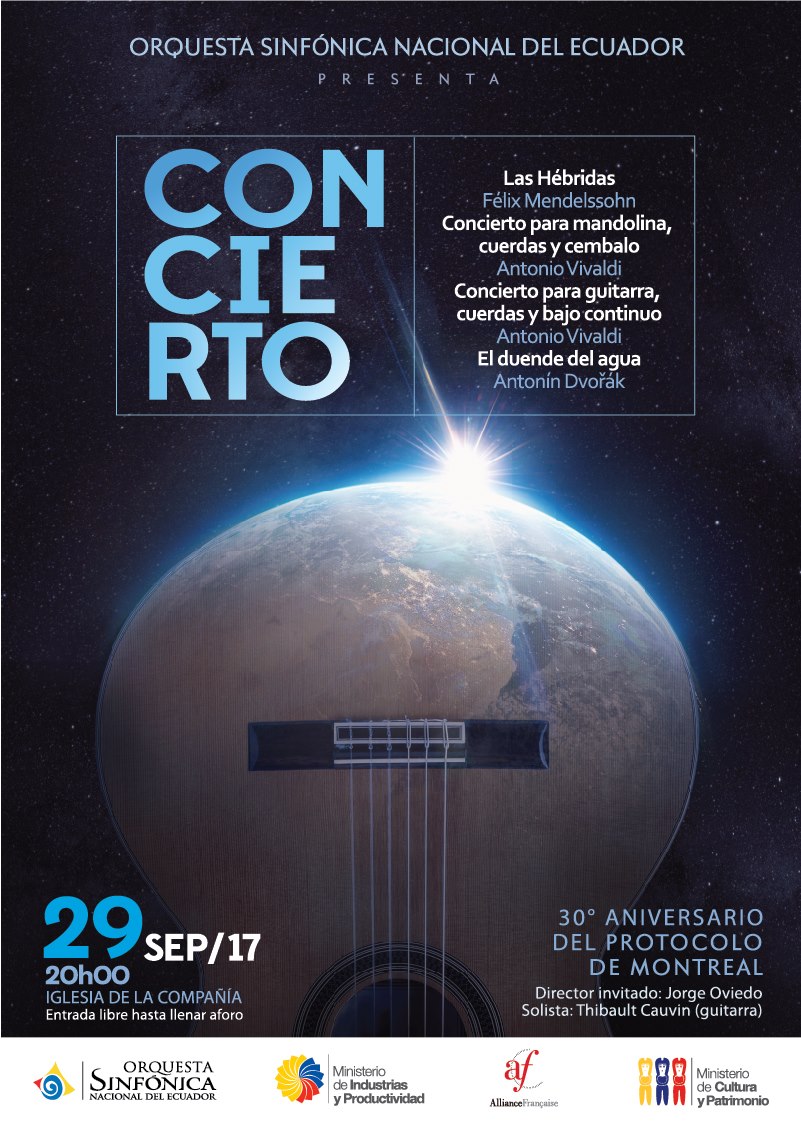 No, it wasn't the fact that the designer had merged a guitar and the Earth into a pretty nifty graphic on the poster. But rather:
I LOVE listening to live orchestral music, but rarely get the opportunity because it is usually very expensive! I only used to go see the Melbourne Symphony Orchestra play their free concerts during summer for this reason.
Mendelssohn's Hebrides Overture is one of my all-time favourite pieces of orchestral music (if you haven't heard it, click on the link and turn the sound up loud!). I was introduced to it when I was about 14 and studying music in high school, and have loved it ever since. In fact, when I went to Scotland with some friends many years ago and we were in the Hebrides, I insisted that we had to go to Fingal's Cave (the popular name for this piece of music).
While the UNESCO listed historic centre of Quito is full of amazing churches, if you only have time to visit one – it should be the Iglesia de la Compañia. It is incredibly intricate inside and out!
I got there an hour early to make sure I was close to the start of the line and I'd be able to get in (the fineprint on the poster says "free entry until seating is full") and met Natalie – the only other Aussie expat I've met so far, a lover of classical music and clarinet player. When they finally let us in 1/2-hour before the concert started, it seemed that everyone in front of me was reserving seats for others because although the seats were only 1/2-full, there was no room to sit! So Natalie and I ended up standing 🙁
But it was absolutely amazing!
I've always felt that the opening bars of the Overture immediately envelop you – not sure how else to describe it. And when the orchestra started – I was wrapped in the sound and it was heaven! This piece of music is incredible, and they played it extremely well. My heart soared!
Unfortunately no pictures allowed during the performance (actually you aren't allowed to take photos inside the church at all), but I did manage to take a quick one before it started.
The other pieces in the concert were not really my thing, but to hear the Hebrides Overture played in such an amazing venue was priceless.