Back in January, I ate my way through many of the Portuguese treats on offer in Porto whilst visiting my friends for a week. Well, 6 months later I was back. And having just stretched my stomach enormously by trying as much of the typical food in the Azores as possible, there was more to try on the mainland as well!
More Porto food
I arrived in Porto to be greeted with a box of my absolute favourite Portuguese treats – Jesuitas from the Confeitaria e Pastelaria Moura.
Then, a few hours later, it was off to the seaside for a delicious feed of grilled Sardines – very Portuguese – and one of my absolute favourite dishes!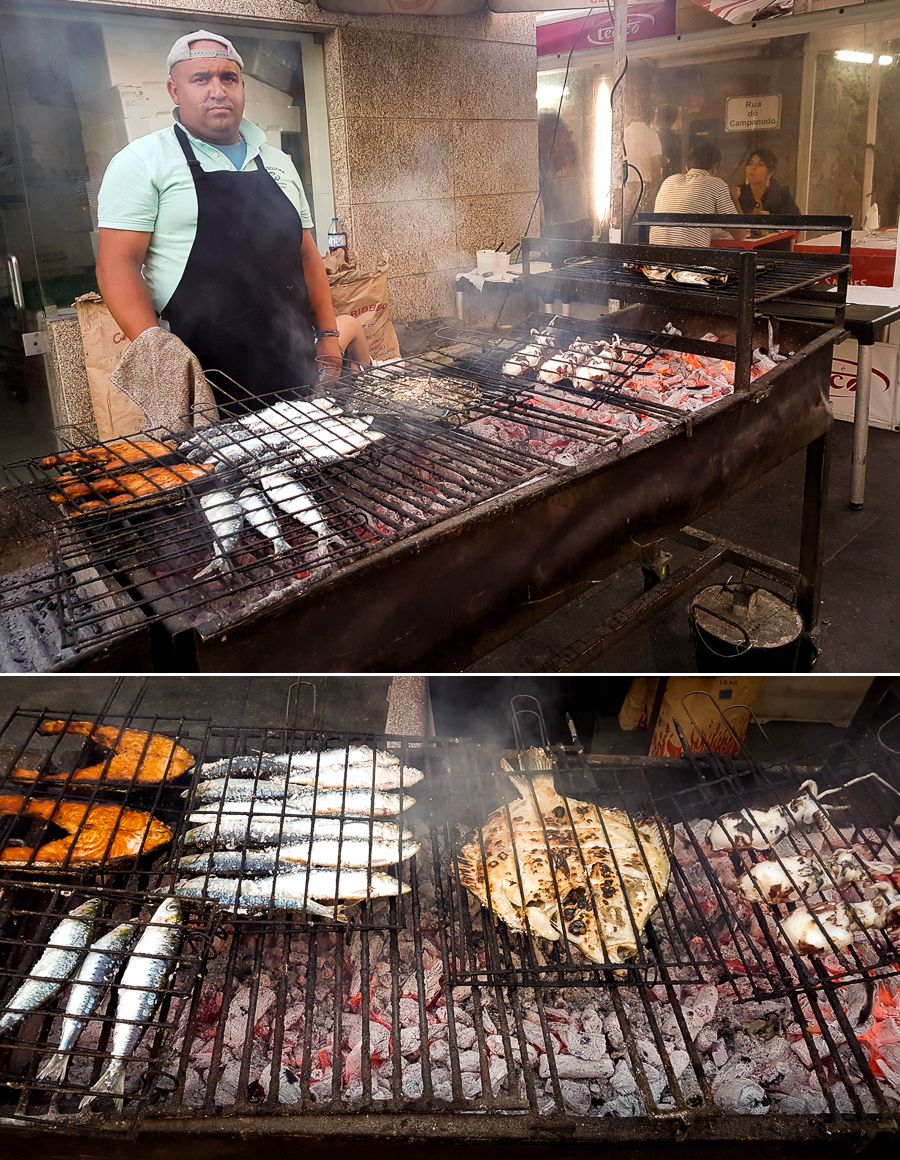 First of all though, as a starter, I tried Mílharas – a large plate of fish eggs. These were delicious but there was a heck of a lot of them! I think you are meant to share…
I also horrified my friends and the waitress by ordering hot milk with the meal (something I re-discovered last year in La Palma, El Salvador). Well, I felt like something warm and didn't feel like tea or coffee, and when you don't drink alcohol – there is a rather limited selection!
Other bits and pieces I managed to try while I was in Porto this time:
Limonetes
Need I say, more sugar and eggs brought together in another great Portuguese pastry. Apparently some prefer the Limonetes to the Jesuitas, but the Jesuitas still win for me.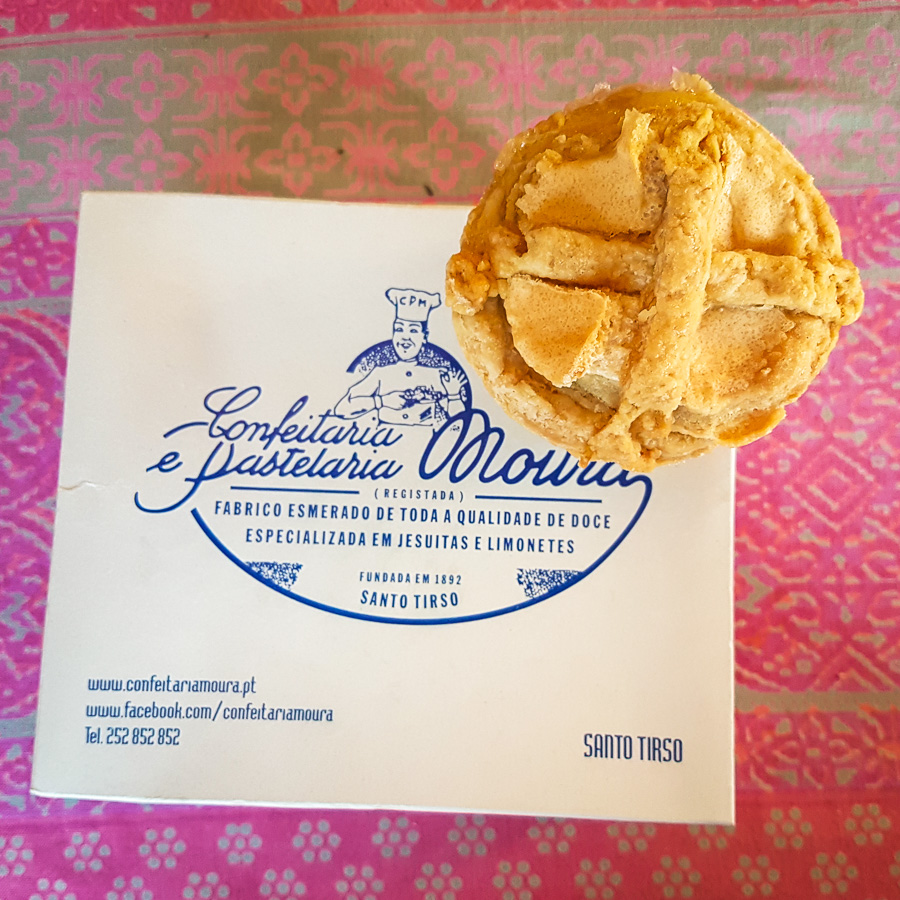 Farturas
These are very much like the spanish Churros but, in my opinion, even better because they are fluffier! Fried dough + sugar + cinnamon – you can't go wrong with this combo!
Natas from Manteigaria
Yes, I ate a lot of Natas last time I was in Portugal (my second-favourite pastry after Jesuitas), but the ones from Manteigaria are special. Apparently the pastry is made with even more butter!
Bacalhau assado no forno com batatas a murro
Translated, this is "roasted cod with punched potatoes", and it is made with lots of garlic and olive oil. Pedro's mum made this very traditional and amazing dish for me, and followed it up with a beautiful dessert of a queijada and fresh fruit. Million thanks for the lunch – it was wonderful to meet you guys!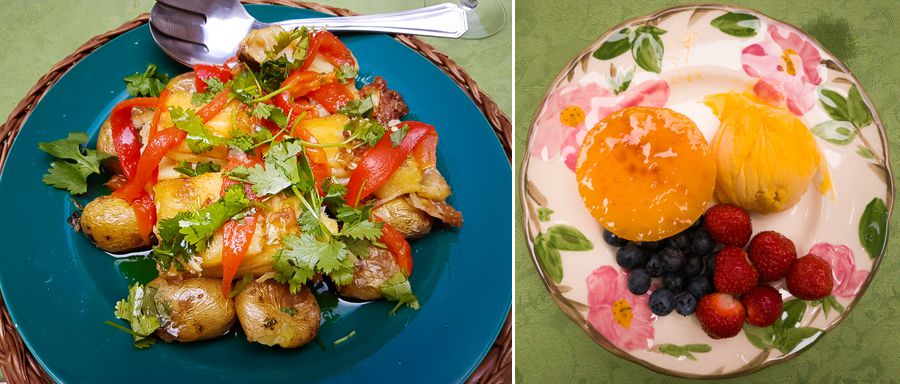 Sandes de Pernil
Basically a pork sandwich made with sandes de lombo assado (the bread) and pork thigh. We (well, Raúl did – Pedro and I went and grabbed a table) lined up at Casa Guedes – a very traditional tasca (tavern) for 1/2 hour to order this very tasty quick bite.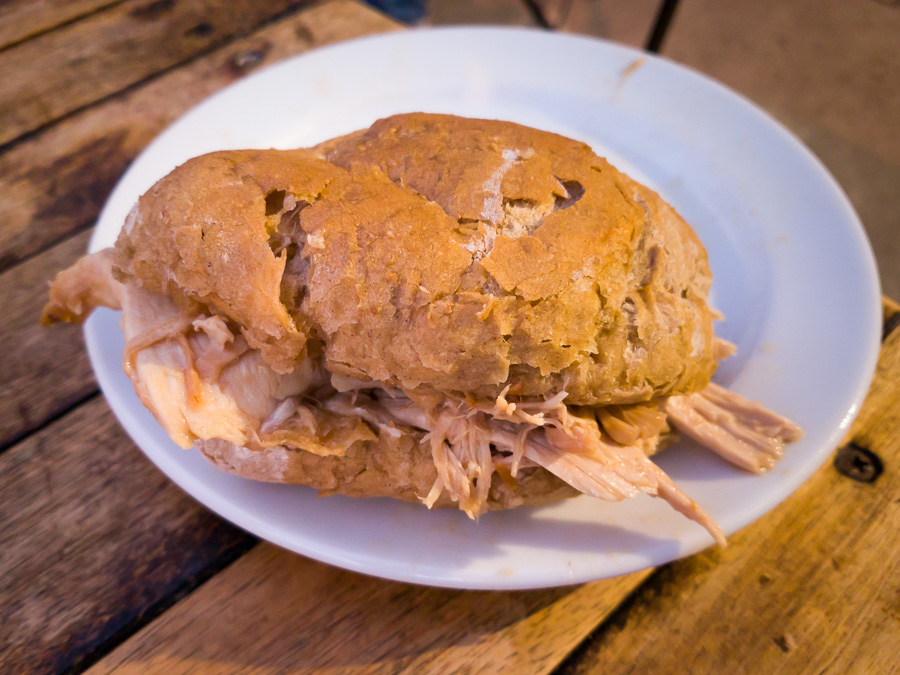 Icecream from Gelataria Portuense
If you've been following along for a while, you know that I'm a mad icecream fan. In January, we were supposed to visit the Gelataria Portuense for what was touted as the best icecream in Porto – but it was closed for renovations. Needless to say, we rectified that situation this trip, and I can definitely say it is some of the best icecream I've ever had! Very smooth, and you can't go wrong no matter which flavour you choose!
Regueifa com manteiga and Galão
For my final breakfast in Porto this trip, Pedro, Raúl and I headed downstairs to partake in this very traditional Sunday-morning special. Yes – it is bread and butter, with coffee served in a glass rather than a cup 🙂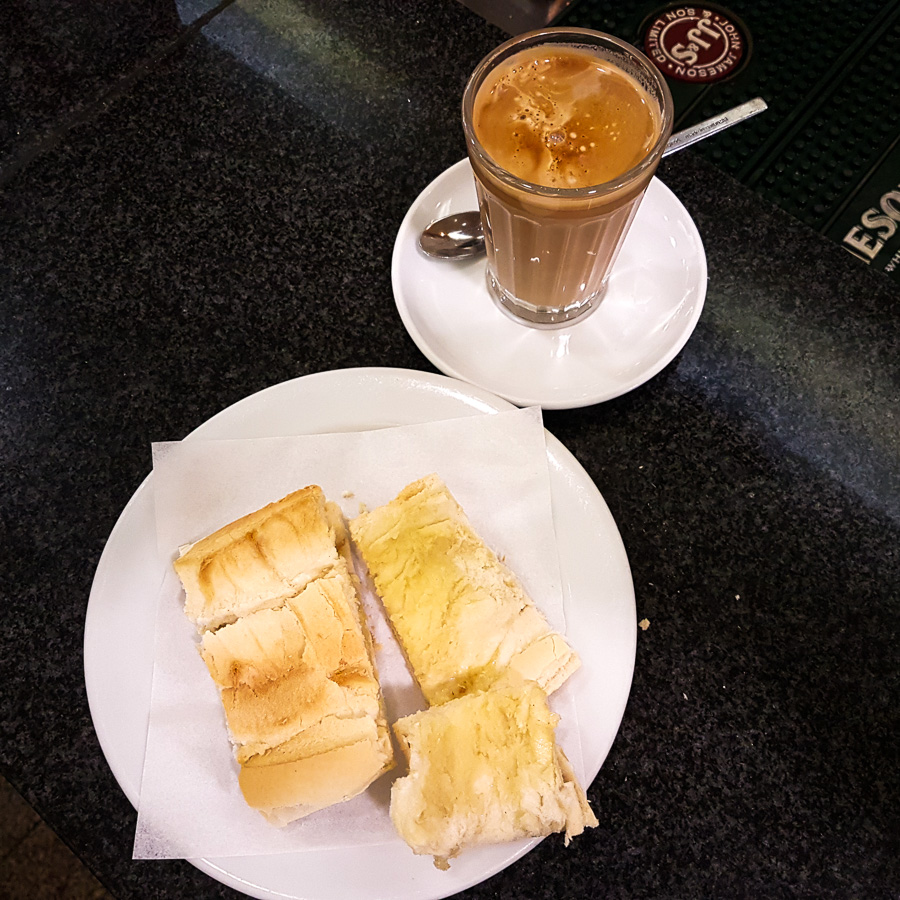 Thanks guys for yet another awesome time in Porto! Let's see what you can find to feed me next trip 😉
Food from the Algarve
After leaving Porto, I headed down on the train to the other end of Portugal. This was my first trip to the Algarve region – Portugal's "summer playground" – where my friend, José, and his family were spending 3 weeks on vacation.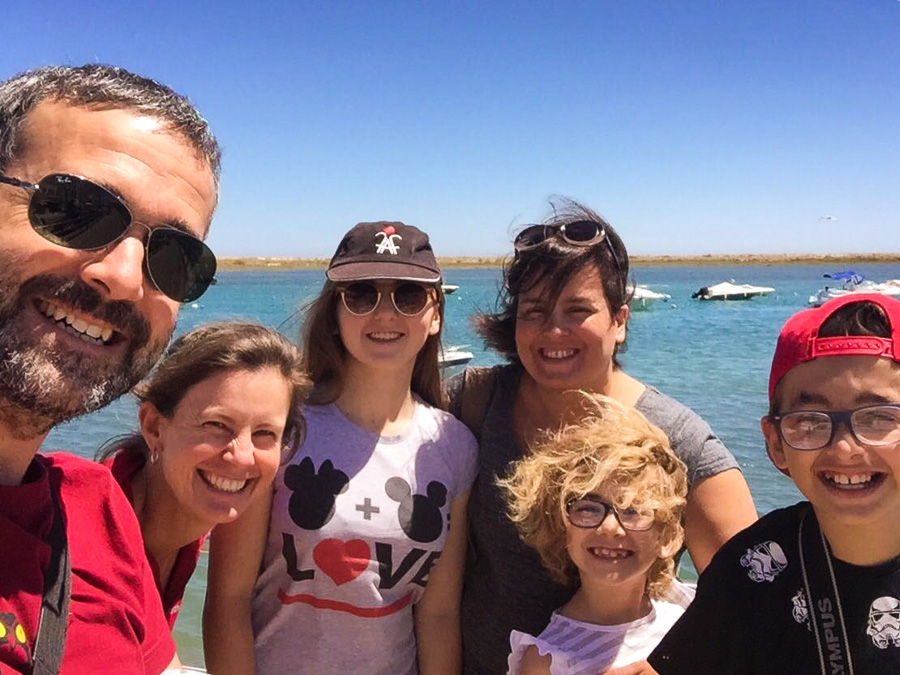 I was only there for 3 days, and we mostly ate at home (still loving the grilled sardines!), but there was definitely time to try a few things 🙂
Sopa do Mar
We went out to a very specific restaurant, Restaurante Ideal in Cabanas, to have their famous Sopa do Mar. This is a slightly spicy and very tasty seafood soup served in a bread bowl. In an effort to eat enough but not too much (already a bit of a lost cause by this time) I scraped the insides of the bowl to add bread to the soup and only dunked the top in. Delicious!

Doce de Vinagre
Though of course, you can't just have a main course, and after the soup I couldn't resist trying the Doce de Vinagre – "Vinegar Sweet". After all, it sounded intriguing … how do those things go together at all? Turns out it doesn't taste like vinegar at all, as one might suspect. Instead – it is yet another take on a milk + egg yolk + sugar confection, where the vinegar is just used to curdle the milk into clumps.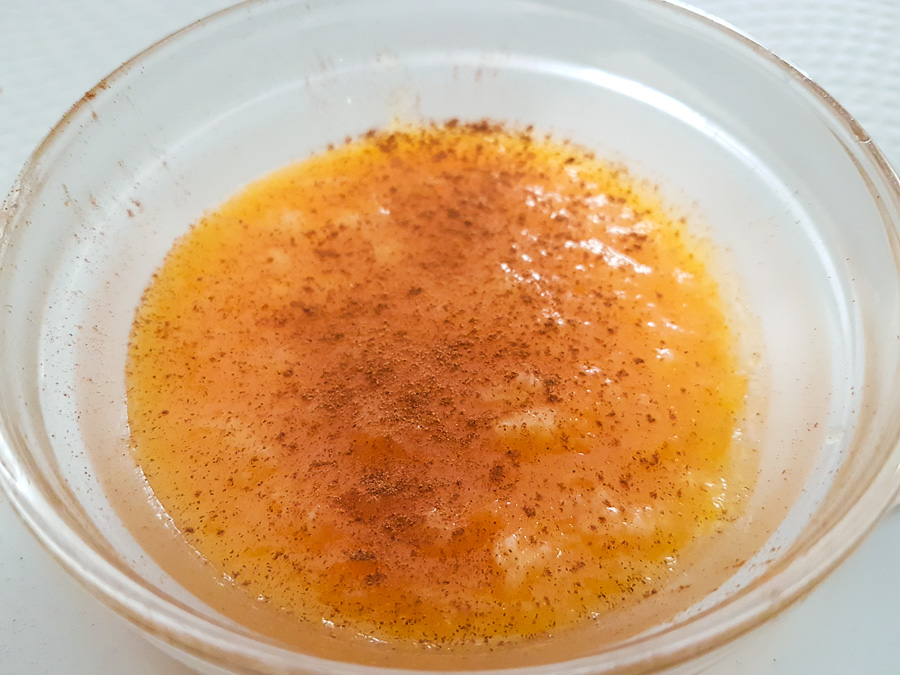 Tigelada
More milk+sugar+egg yolks. More deliciousness!
Dom Rodrigos
Finally, I bought one of the most traditional pastries from the Algarve region to take with me on the flight to Madrid. Dom Rodrigos come wrapped in brightly coloured metallic paper and are a concoction of egg yolks+sugar (no surprises there) but also almonds, which are very typical of the region.
And so ends my latest foray into Portuguese food! Like last time, I reckon I put on at least 1kg during my couple of weeks there, but everything is so tasty and my friends are total enablers 😉
Thanks guys! I'll be back!