One of the things I wanted to do this time around on Easter Island was head out to Tongariki for the sunrise. There are excursions offering this for US$60 per person for a 3 hour trip (ouch!), so I decided to rent a scooter instead (even cheaper) to ensure I got out there to see it, and then have the opportunity to go on to visit other places on the island as well.
Unfortunately, the lady wouldn't hire me a scooter! I showed her my Victorian drivers license with my motorcycle permit on it, which is indicated by an "R" for rider. I don't think she believed me when I explained this, and then she asked if I'd ever ridden a scooter before. I had to admit "no" (after all, I needed her to show me how the thing worked) and that was it. She refused on the grounds that riding a scooter is totally different to riding a motorbike. She wouldn't budge on this point so ultimately I ended up hiring a (surprisingly cheap) car from her. Still turned out to be less than the cost of the excursion!
Headed out in the car at 5:45am for the ½ hour trip to Tongariki, and was one of the first there. The Southern Cross was visible over the Ahu and the sky was already starting to brighten significantly.
Here's another image from a little later – just because it is pretty 🙂

Due to the cloud, it took quite a while for the sun to appear,
but it was truly spectacular when it did.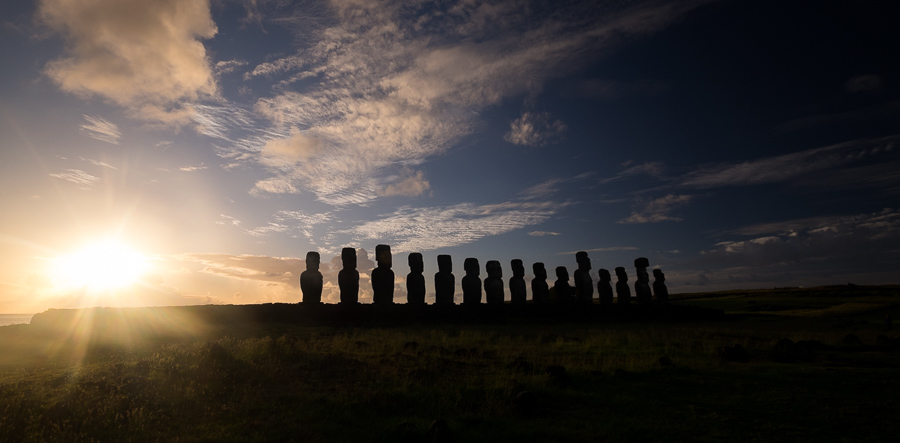 Totally worth getting up early and hiring a car 🙂
I also really like this guy who has both an amazing view back towards his home in Rano Raroku
as well as Ahu Tongariki.
Ahu Tongariki is the grandest of all the Ahus on Easter Island with a 220m long platform – the largest of its type in all of Polynesia. Each of the 15 Moai occupying the platform is thought to represent a particular ancestor and is therefore unique in size and shape.
Like every ahu on Easter Island, the statues on Ahu Tongariki were at one point toppled by the Rapa Nui people. In addition, a tsunami in 1960 wrought further damage to this site. The restoration effort took 5 years to complete at a cost of USD$2 million with funds and assistance provided mostly by the Japanese. "During the excavations another 17 Moais were discovered to be completely destroyed and were used as a base for the current platform, as was the usual thing to do when an ahu was raised in a place where another had once stood." It is impressive whichever way you look at it and one of the most popular sites on the island.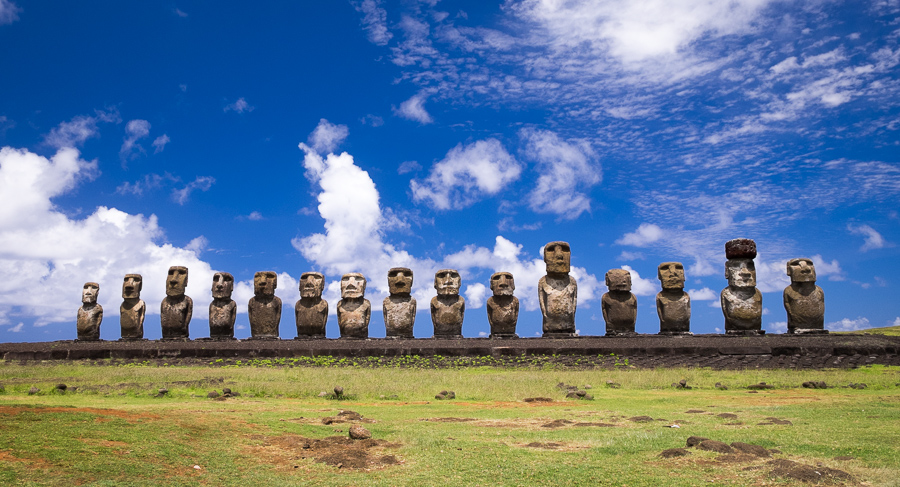 After the sunrise, I headed to Anakena (one of the Island's few beaches and the supposed landing place of the first King of Easter Island) and Ahu Nau Nau, another of the restored ahus.
Ahu Nau Nau was reconstructed in 1978, and exhibits the best examples of carvings on the Moais to be found on the island. They were preserved when the beach sand essentially buried the Moai once they had been toppled.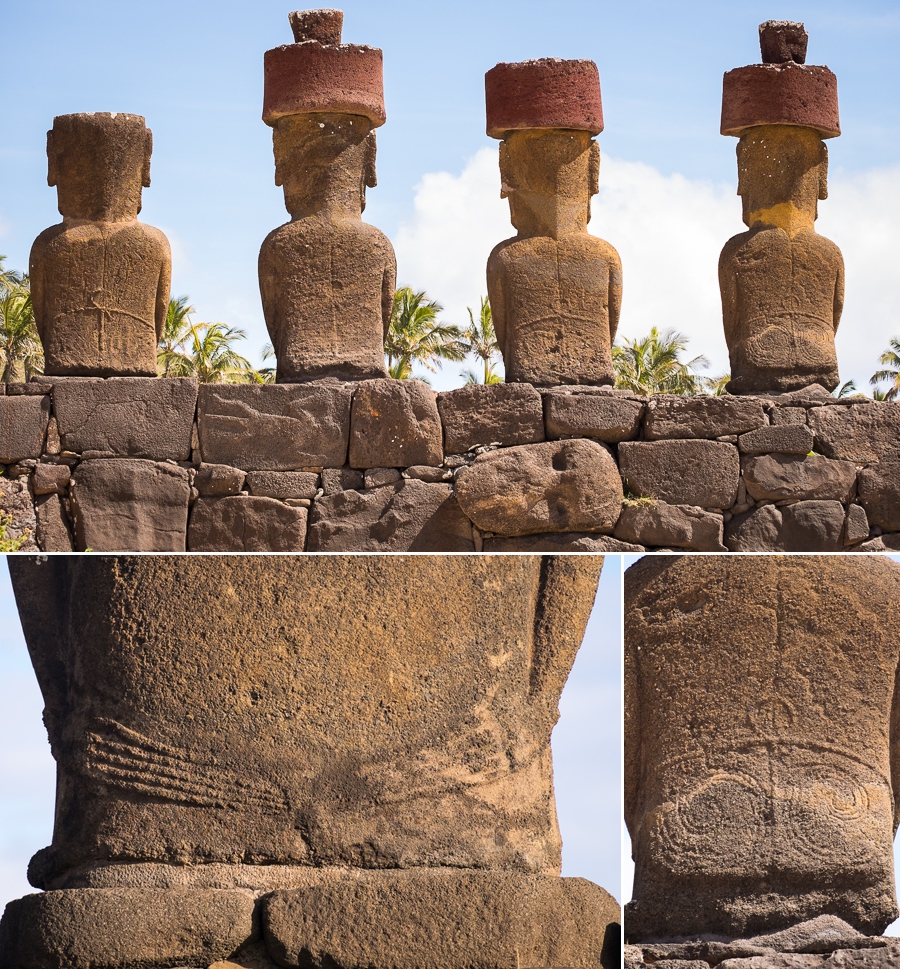 You can clearly see the fingers on the front of the statues, and around the back, the spine, knotted loincloth and what are thought to be circular tattoos on the butt.
Went and sat on the beach in the shade for several hours reading (you guessed it) Thomas Covenant and waiting for the afternoon light before I visited Rano Raroku – the other site on the island that you can only visit once, and the place where they quarried the Moai out of the rock.
I remember Rano Raroku being super-impressive last time I was on Easter Island, and it remains so, even though you are now severely restricted as to where you can walk. It is incredible to see that the Easter Islanders really did just "down tools" one day and never went back.
You can clearly see the faces of rock where the Moai were "born", and there are almost 400 fully-carved heads spread all over the side of the volcano (as well as inside the crater), in various stages of "walking" to their places elsewhere on the island.
There are also examples of Moai (including these incredibly large ones), that were carved but not yet set free to walk to their final position.
There is a very famous Moai here as well, called Tukuturi, the only one known to be carved in a kneeling position. He has more "human" (round) features and may have been one of the last, or first (depending on which theory you like best) Moai to be carved. He also has an awesome position looking down on Ahu Tongariki.
Spent ages wandering around this abandoned birthplace of Moai – another really awesome place on the Island, and one where you want to have plenty of time to explore. Here are some of my favourite shots – just because 🙂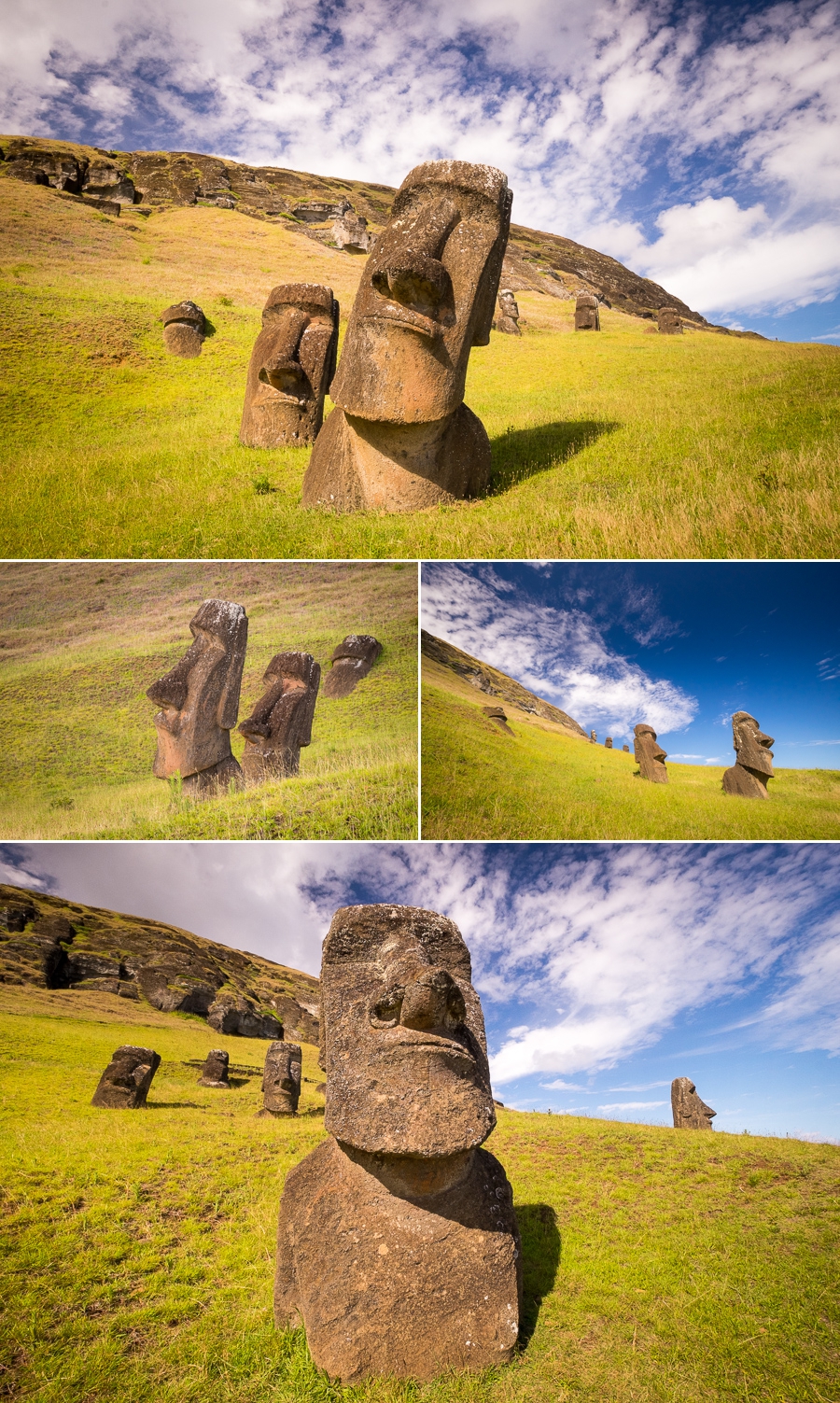 And finally, for my last night on Easter Island, I headed back out to the Tahai Complex to watch yet another spectacular sunset.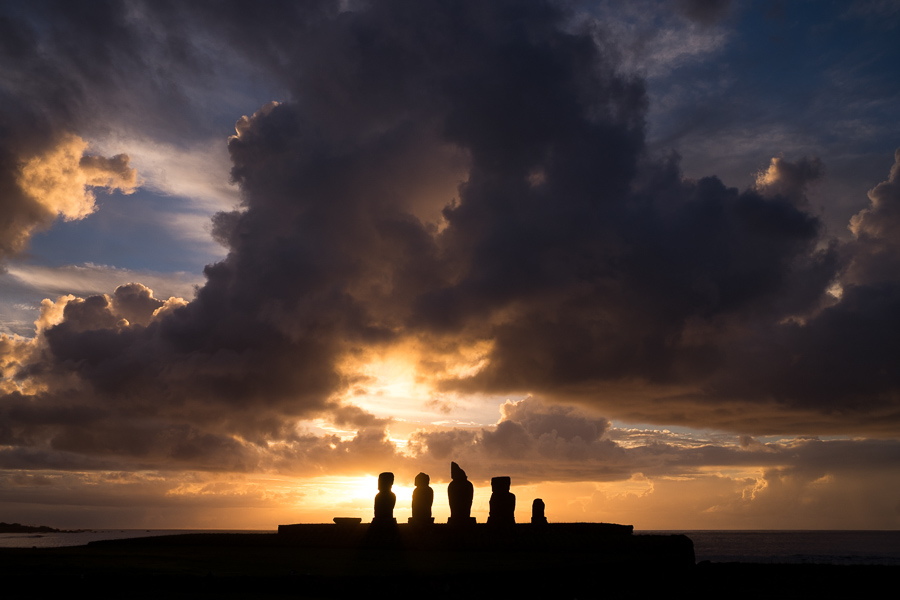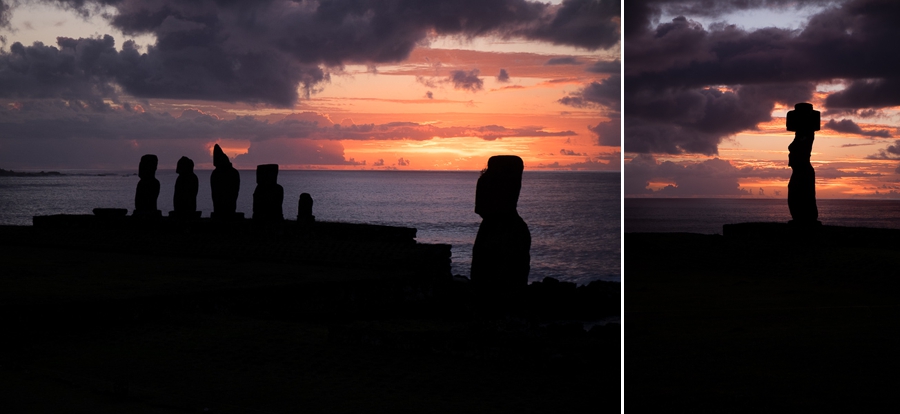 Recommendation: I really, really loved both of my trips to Easter Island, and I could easily have stayed longer. If you have the chance – you should definitely go! Depending on your style of travel, I would suggest somewhere between 5 and 12 days would be optimal.
Cost: Easter Island is expensive!
CLP30,000 national park entrance fee. This is valid for 5 days and allows you one entrance to Raro Raraku and Orongo, unlimited visits to other sites. Easiest to pay this at the airport when you get off the plane.
LATAM airlines has the only flights to Easter Island so they can charge what they like. If you are on a OneWorld around-the-world ticket – add it in as one of your legs 🙂
Camping Mihinoa was a great budget option! They also have dorm rooms and private rooms if you don't want to camp.
LATAM allows you to take two bags to Easter Island, so another way to cut costs is to take a box of food with you from Santiago (assuming you have a place to cook).
There are lots of places to hire scooters, motobikes, ATVs and cars. Shop around as prices vary.
I loved my experience on the e-Bike, but unfortunately it doesn't look like they are still in business as I can't find their website anymore!! You can still hire a regular bike, it will just need a little more exertion from you to get around the island.