After 2 long years of waiting, I finally got to see my absolute favourite band in all the world – Nanook – play as part of the Akisuanerit Festival in Nuuk. Featuring both domestic and international artists and a wide range of musical styles, this 3-day music festival is one of the biggest in Greenland and a great place to discover musicians from the world's largest island.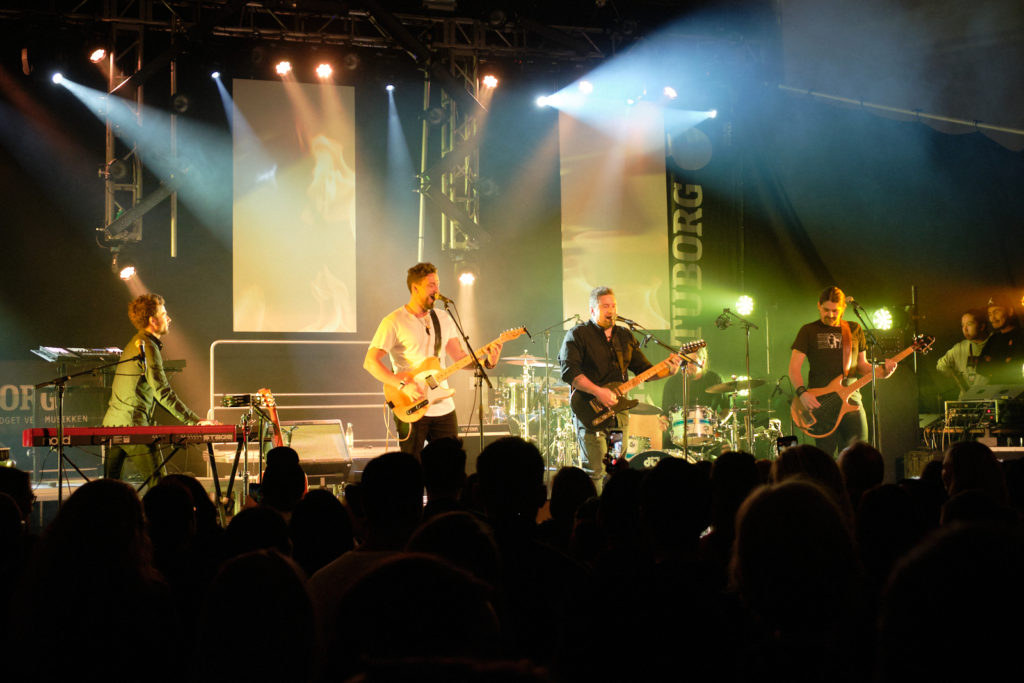 Nanook were one of the first acts to be announced for this year's festival, and I think I may have been first in line to buy a ticket to the Saturday night when they were released. There was no way I was going to miss them this time! The added bonus was that another of my favourite Greenlandic performers – Kimmernaq – was also scheduled to play the same night, as was the headline performer – Danish artist, MØ.
Akisuanerit Festival – arriving at Katuaq
Months after buying the ticket, the big night finally arrived. Determined to reclaim "the spot" I had occupied for the Ole Kristiansen concert in the Katuaq Foyer earlier in the year (one of the best places for short people like me), I rushed my friends through dinner and out the door so that we would arrive early.
Unfortunately, I had not read the schedule very closely and we found the doors still firmly locked when we arrived at 8:30pm. I thought the first act was scheduled for 9pm, but it turned out that was when the doors would be opened.
Oops!
I wasn't the only one to be making my friends stand out in the cold, however. Elaine – a 68 year old lady from Florida and another enormous Nanook fan – was also stranded outside. When we were finally let in, I headed straight for "the spot" and claimed it with no worries at all. But I think my friends will double-check anything written in Danish next time before taking my word for it 🙂
Akisuanerit Festival – Kimmernaq and Adam
The first performers of the night were Greenlandic singer Kimmernaq and her brother Adam. I'd come across Kimmernaq about a year ago and immediately fell in love with her amazing voice and many of the songs off her two albums. Perhaps this isn't surprising given her second album was written by Frederik Elsner from Nanook!
I had heard her songs performed by many local musicians in towns and settlements around Greenland, but I was really excited to actually hear her in person. She was fab!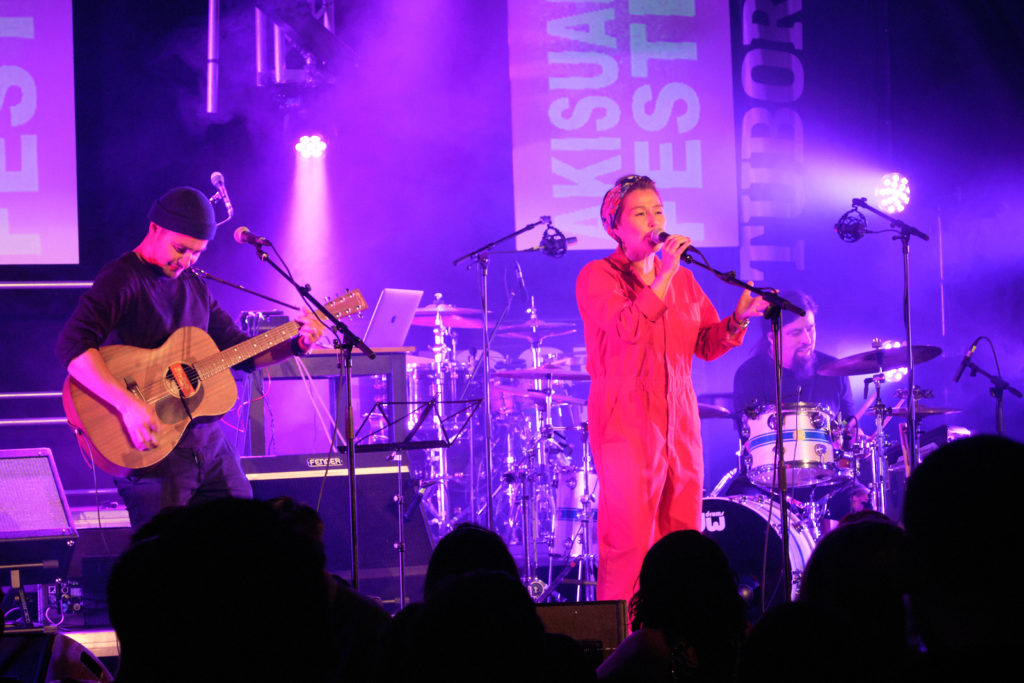 She sang a mixture of songs during her performance, including many of her own as well as a few Radiohead covers that allowed her and her brother to harmonize gloriously. Adam turned out to be an incredible singer in his own right, performing a solo, melancholic folk-style song that aligned exactly with the type of music I love. What an incredible start to the night!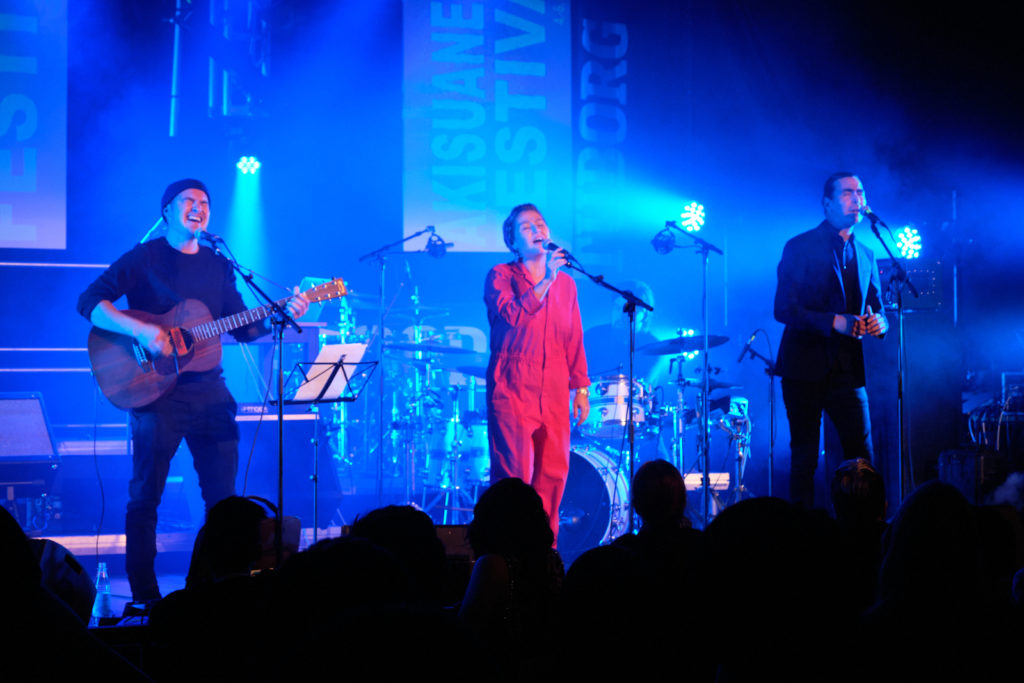 Their set culminated in an amazing hip-hop collaboration with several other Greenlandic artists, including Nina Kreutzmann Jørgensen, Pilu Lynge and Da Bartali Crew. Something very different to her usual stuff – and seriously, seriously awesome! Yes, even for someone who is not into hip-hop music.
---
Buy music from Kimmernaq at: Atlantic Music Shop, iTunes
---
Akisuanerit Festival – Nanook
Next up was the band I had come to see – Nanook. I discovered their music about 2 years ago when I was living in Ecuador and have listened to almost nothing else ever since! If you've been following me for a while, you will have seen my blog posts about them both here and on Guide to Greenland 🙂 I had been trying to see them play live since 2017 (I missed them by less than 12 hours in Sisimiut in 2018) and I finally got the chance here in Nuuk.
The wait was totally worth it!
They started out with the amazing soundscape of Minguitsuugami – one of my favourite tracks off their latest album, Ataasiusutut Misigissuseq – and played a mixture of old and new songs from their 11-year career.
There is something really special about seeing your favourite musicians play live, and it can only be surpassed when they actually give you a shout-out/name-drop in the middle of their performance 🙂 One of the highlights of my year!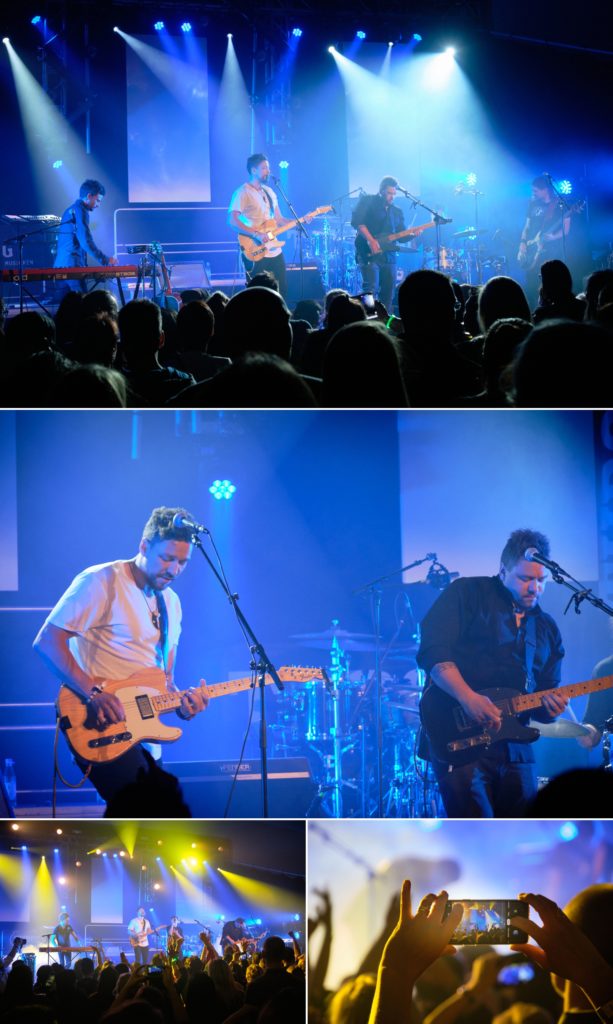 ---
Buy music from Nanook at:  Atlantic Music, Amazon (Pissaaneqaqisut, Ataasiusutut Misigissuseq), iTunes, Spotify
---
Akisuanerit Festival – Tarrak
A surprise addition to the program was Greenlandic rapper, Tarrak. Performing with KimoJax, they sang his controversial hit "Tupilak" – a song that highlights some of the difficult aspects of the relationship between Greenland and Denmark.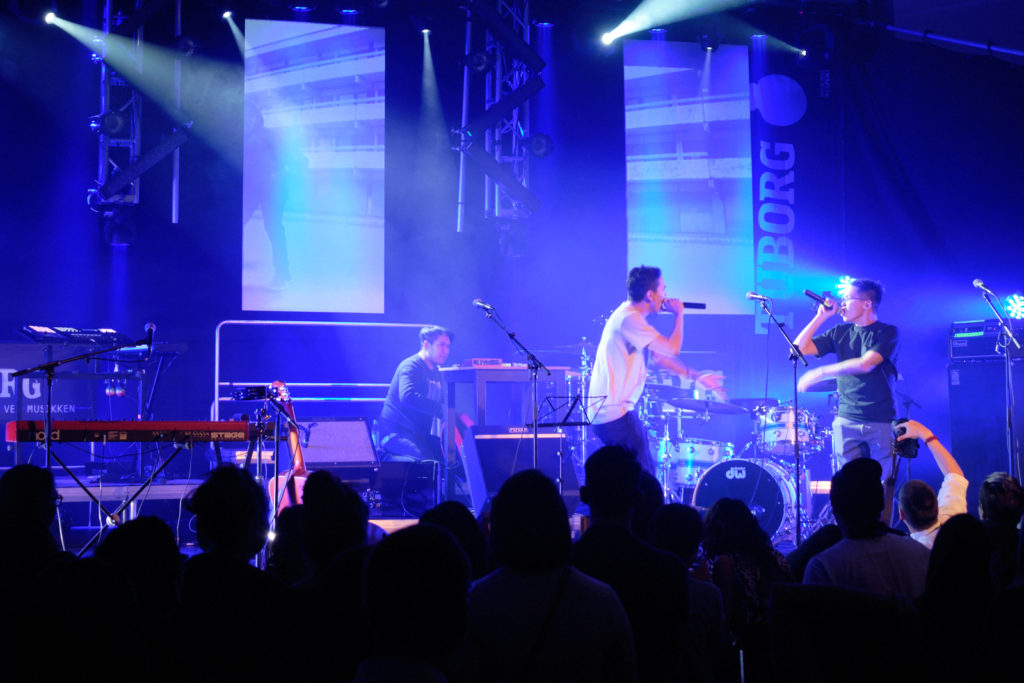 The linked YouTube clip includes an English translation of the lyrics, and although I am not a fan of rap, I think this song is amazing.
Akisuanerit Festival – Julie
Julie Berthelsen is one of the biggest Greenlandic pop singers, and insanely popular judging by the reaction of the masses who had packed into the foyer of the Katuaq Cultural Center by this time.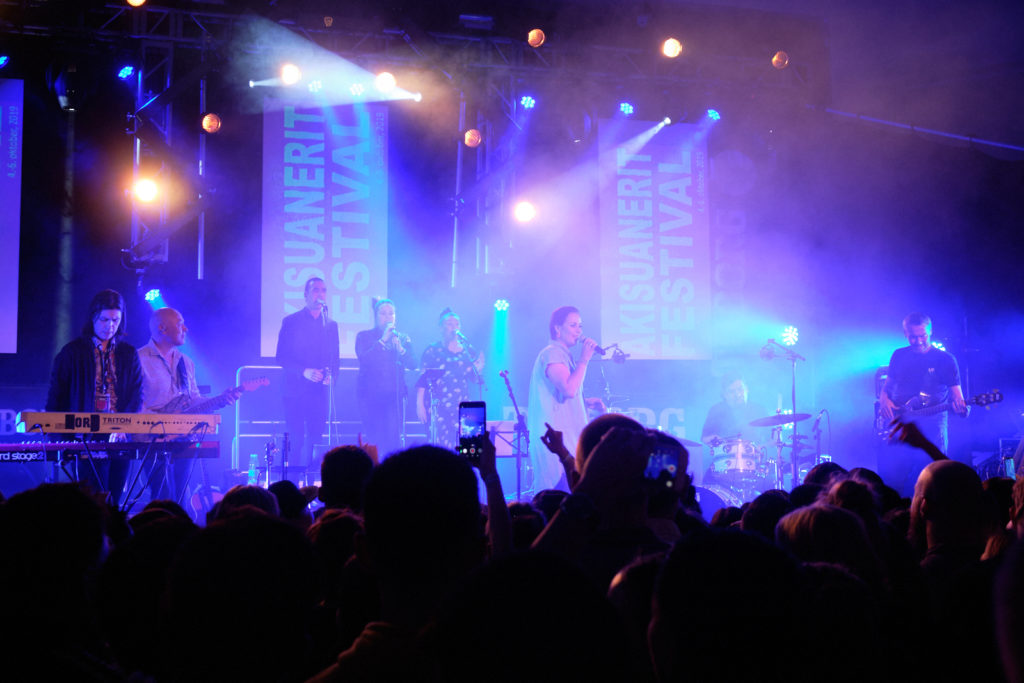 Personally, her music is not my cup of tea. But I have to admit to liking the song "League of Light" which she sang with Nina Kreutzmann Jørgensen as Greenland's entry to the Danish qualifier for Eurovision 2019. Nina joined her on stage again at the Akisuanerit Festival to finish off her set with this number.
Akisuanerit Festival – MØ
The headline act for the 2019 festival was internationally famous Danish singer, MØ. To be honest, I had no idea who MØ was or what her music sounded like (yes, I can be a little behind the times), but given I was there I figured I should stay awake, stick around and give her a go.
She. Was. Amazing!
She didn't appear until about 1:20am, but when she did, her energy and stage presence were amazing and her vocals were flawless. I'm now a massive fan!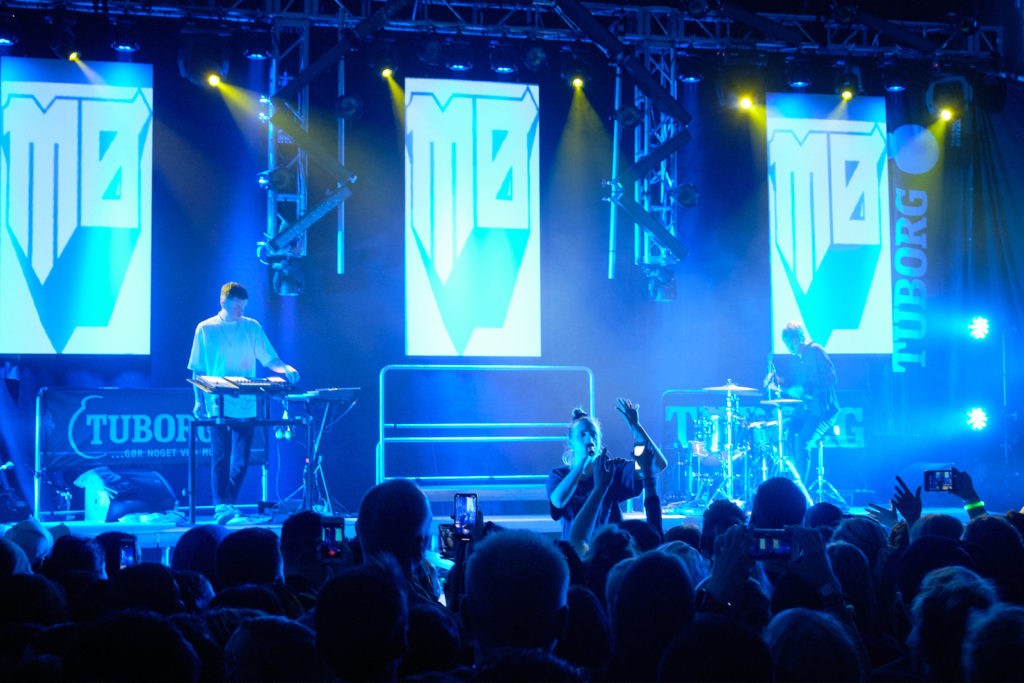 Summary
For a person who normally goes to bed around 10pm, this was a huge night! MØ finished at 2:30am and I had a 30-minute walk to get home afterwards. Even then, I found it difficult to fall asleep. Between the ringing in my ears and the high of finally seeing Nanook play live – my brain would not let go of the awesome night.
If you are a music lover and also interested in visiting Greenland – perhaps try to plan your trip for end-September/start-October so you can catch the Akisuanerit Festival in Nuuk. Like the festival's Facebook page to stay up to date with the latest news, and check out the Ultimate Guide to Nuuk to discover what else there is to see and do while you visit Greenland's capital.
Discover more about Greenland
The Ultimate Travel Guide to Nuuk provides a complete list of festivals that take place throughout the year in Greenland's capital. It also has loads of practical information on how to get to Nuuk, how to get around, where to stay, where to eat, and what to do once you arrive.
I have a large number of blog posts about Greenland, so feel free to read more about my experiences here on my blog or on my Greenland-specific blog at Guide to Greenland.
For more information about Greenland, the best websites are Guide to Greenland (which is also a one-stop-shop for many of the tours available), and Visit Greenland, the Government tourism site.
This post contains some affiliate links. If you make a purchase through one of these links, I will earn a small commission at no extra cost to you. Your support is appreciated!